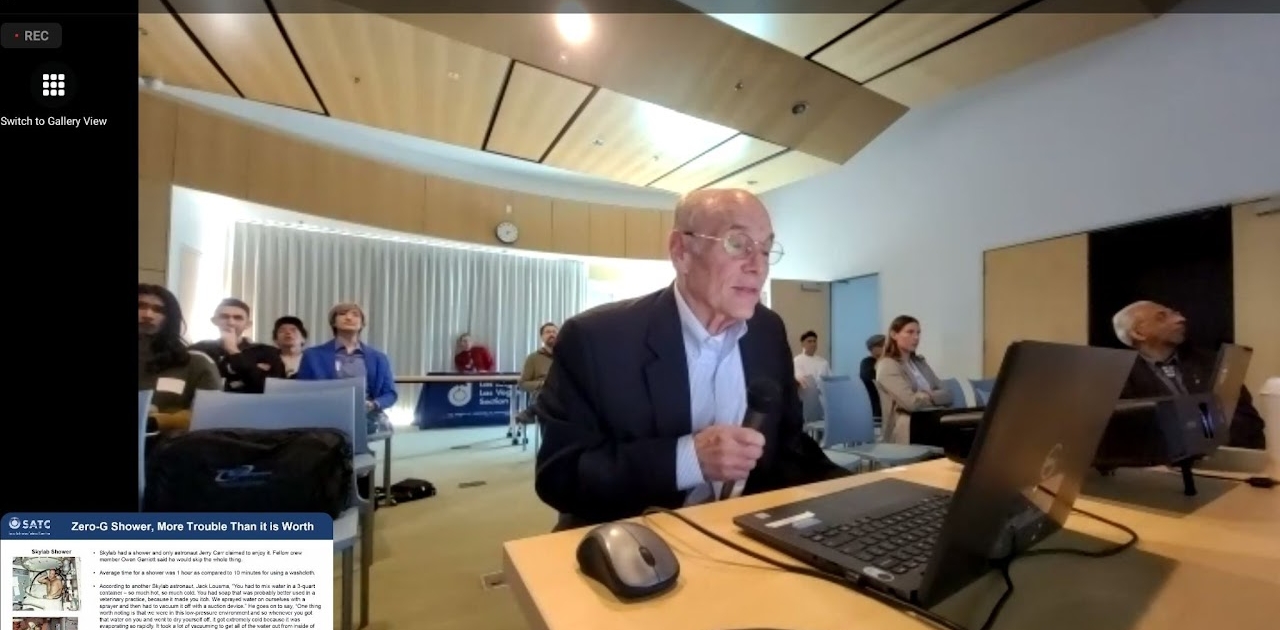 Event Summary: AIAA SATC Space Architecture Gathering
The SATC Space Architecture Gathering took place on Saturday, April 15th. This highly anticipated event was held online, with the option for attendees to participate in person at the Lawndale Library in the Los Angeles area of Southern California, USA. It was a cooperation between the AIAA Los Angeles-Las Vegas Section (AIAA LA-LV) and the AIAA Space Architecture Technical Committee (SATC).
The gathering commenced at 10:00 am PDT and was accessible online throughout the day. Members and non-members of the American Institute of Aeronautics and Astronautics (AIAA) were cordially invited to join either online or in person to engage with and learn from influential leaders and experienced professionals in the field of Space Architecture.
The event was co-moderated by Ken Wang from the AIAA, Madhu Thangavelu, on-site, Sandra Haeuplik-Meusburger and Alma Kugic, on-line. It followed a tentative agenda, all listed in PDT (GMT -0700), which offered a comprehensive lineup of engaging sessions and informative discussions:
10:00 am: Welcome and Introduction The gathering began with a warm welcome and an introductory address that set the stage for the day's proceedings.
Before the presentations, Sandra Haeuplik-Meusburger, as the current chair of the SATC shared some memories on the founding of the Space Architecture Committee and information about the current status.
10:10 am: Session I & II – AIAA SATC Presentations Esteemed presenters and panelists from the AIAA Space Architecture Technical Committee (SATC) shared their insights and expertise on various topics related to space architecture. These presentations shed light on the cutting-edge advancements and challenges within the field.
Presenters: Melodie Yashar, Brand Griffin, Alma Kugic, Sandra Haeuplik-Meusburger, Paolo Caratelli, Scott Howe, Barbara Imhof, Olga Bannova, Sam Ximenes, Vittorio Netti, Marc Cohen, Madhu Thangavelu
13:10 pm: Panel Discussion and Q&A Following the AIAA SATC presentations, a panel discussion took place, providing an opportunity for participants to engage in a dynamic conversation with the panelists. Attendees asked questions, gained further insights, and explored different perspectives on space architecture.
14:10 pm: Session III – Non-AIAA SATC Invited Presentations During this session, invited speakers who are not (yet) part of the AIAA SATC delivered presentations on their work and contributions to the field of space architecture. This diverse range of perspectives offered a broader understanding of the subject matter.
Kaja Antlej, Samer El Sayary, Maria Antonietta Perino, Claire Stevlingson, Carla Uyeda
15:00 pm: Networking, Adjournment As the event neared its conclusion, participants had an opportunity to network and connect with fellow attendees, fostering valuable professional relationships within the space architecture community. The gathering formally adjourned at this time, and the meeting room remained open until 17:00 pm for further discussions.
The AIAA-SATC Public Space Architecture Gathering was a memorable and enriching experience for all participants, whether attending virtually or in person. Renowned presenters and panelists, engaging sessions, and ample networking opportunities provided attendees with a broader
understanding of space architecture and its future possibilities. The next AIAA-SATC-Space Architecture Gathering is set for December 2023.
AIAA LA-LV Section: recordings and photos at the event