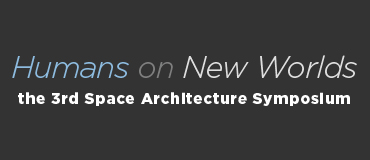 The 3rd Space Architecture Symposium (SAS) – Humans on New Worlds
The Space Architecture Technical Committee (SATC) invites the aerospace community to two major Space Architecture events taking place in July 2016 in the city of Vienna: The Space Architecture Technical Sessions at ICES 2016, and The Third Space Architecture Symposium.
The Space Architecture Technical Sessions (ICES502: AIAA LS&S) 
International Conference of Environmental Systems (ICES 2016)
Date: Tue July 12 to Thu July 14 (Full ICES Conference July 10 to 14)
Venue: Hilton Vienna, Austria
This session focuses on the application of architectural principles to the design of facilities beyond Earth (orbital, lunar, planetary, deep space and interplanetary), to provide supportive and comfortable living and working environments, and enjoyment of life, in full recognition of the technical challenges presented by the environment.
Relevant topics include:
-Configurations and structures
-Construction and robotics
-Habitability design, including food and clothing
-Human factors integration
-Gravity regimes
-Integration of life support systems within space habitats
-Analogues, mockups, simulators, and field trials
-Terrestrial applications to extreme environments and ground-based facilities
-Education for space architects
-Space Architecture as a discipline
-Sustainability from space to Earth
HUMANS ON OTHER WORLDS: Third Space Architecture Symposium 2016
Date: Friday, July 15th 2016
Venue: Technical University of Vienna (TU-Wien), Austria
Several of the national space agencies (e.g. US, China, Russia) have announced long-term goals of sending humans to the Moon and Mars.  For any of these missions to succeed, the research, development, and operations programs that generate and support them must emerge as sustainable enterprises financially, politically, and technologically. This symposium will discuss future visions and scenarios for living and working in Space on multiple levels.
Preliminary Program for the Symposium
8.30       Coffee at Café Nelsons, TU Vienna
9.00       Welcome and Introduction
David Wong: Space Architecture Technical Subcommitee
Moderators: Sandra Häuplik-Meusburger, Georgi Petrov
9.30       Keynote Speeches
David Nixon:  The Architecture of the International Space Station
Hugh Broughton: The Antarctic Analogue
Jean B. Hunter: Analogue Research and Cuisine for Future space missions
Michael Waltemathe: Why do we go? Space architecture as reified settlement philosophy 
11.30     Working Groups I: INHABITING OUTER SPACE*
12.30    Space Architecture Book Table and Book-signing (Cafe Nelsons)
14:00    Working Groups II: PRACTICING ON EARTH*
15:00    Working Groups III: EDUCATING SPACE ARCHITECTS*
16.00    Closing Plenary session with Working Group Summaries
17.30    End of Symposium
The Space Architecture Symposia 2016: HUMANS ON NEW WORLDS is hosted by the Vienna University of Technology, organized by the Space Architecture Technical Committee (SATC) and curated by Sandra Häuplik-Meusburger, Georgi Petrov and Marc Cohen.
Symposium venue:
Vienna University of Technology, Karlsplatz 13, 1040 Vienna
Lecture Hall HS 7 (Schütte-Lihotzky), Main Building, Staircase 7, ground floor
Books venue:
Vienna University of Technology, Karlsplatz 13, 1040 Vienna
Café Nelsons, courtyard 2
* Working Groups:
All participants are invited to join and contribute to the discussion. Each working group will be chaired by two moderators. An intermediate conclusion will be discussed in the plenary session in the afternoon, followed by a written report.
Working Group I: INHABITING OUTER SPACE
What are the implications for humanity? How do we live on another planet? Which are the psychological, perceptual, social , aesthetic and cultural challenges? How can space architects contribute?
moderated by:
Maria Joao Durao, Faculdade de Arquitectura, Unversidade de Lisboa
Brent Sherwood, Caltech, JPL
Working Group II: PRACTICING ON EARTH
What are current working fields of space architects? What are the benefits if space architects are included? What are the challenges? What could be future working fields?
Moderated by:
Barbara Imhof, LSG
Ondrej Doule, Space Innovations
Working Group III: EDUCATING SPACE ARCHITECTS
What are the challenges for future space architects? What are the benefits of space architecture educational modules? What is the future work environment?
moderated by:
Olga Bannova, University of Houston
Christina Ciardullo, Carnegie Mellon University
Keynote Speakers:
David Nixon is an architect who has spent over thirty years in the space field working on projects ranging from launch facilities to spaceflight experiments. He has written a book entitled 'International Space Station – Architecture beyond Earth' recently published by Circa Press. He is convinced that the Station is the greatest engineering achievement of modern times. In this talk, he describes his approach to writing the book and the need to tell the Station's story with sufficient accuracy and depth to do justice to it as an engineering triumph.
Jean B Hunter is Associate Professor in the Department of Biological and Environmental Engineering at Cornell University and currently serves as Director of Undergraduate Programs for the department. Her research interests include bioprocess and food engineering, particularly in the area of space life support. Professor Hunter's research group studies design of food processing, food preparation and waste management systems for long-term space colonies and food choices, food acceptability and nutrition in space analog crews.  She founded the HI-SEAS analog project in Hawaii in 2013 and continues to collaborate with it, along with the Mars Desert Research Station and FMARS.
Hugh Broughton trained at Edinburgh University before setting up his architectural practice in London in 1995. His projects have won awards from numerous organisations including the Royal Institute of British Architects, American Institute of Architects, Civic Trust, the Architects' Journal, the British Construction Industry and Architizer. The firm have won a string of design competitions in the cultural and research sectors for museums, art galleries and, most notably, for a series of Polar projects including Halley VI Antarctic Research Station, Juan Carlos 1 Spanish Antarctic Base and the American Summit Station in Greenland. He has also been invited to prepare designs for Polar bases for India, Korea and Brazil. As a result Hugh is now considered the world's leading designer of research facilities in the Polar Regions. Through this work Hugh recently collaborated with NASA's Behavioural Health and Performance Team at JSC Houston, helping to establish the acceptable net habitable volume for future long duration exploration class missions.
Michael Waltemathe is senior lecturer in the Department of Protestant Theology at Ruhr-University Bochum in Germany. He works in the field of Practical Theology and Religious Education. Educated first in Chemistry and Theology, he gained his doctorate in Theology with a dissertation on the use of Computer-Games in Religious Education. Since then he has developed research interests in historical and contemporary connections between Religion, Spirituality and Spaceflight with respect to contemporary philosophical and theological thought. His publications include a monograph on computer-games and religion and, together with Paul Levinson, he has edited Touching the face of the Cosmos. On the Intersection of Spaceflight and Religion, Fordham University Press NY 2016; and he has published several articles in the fields of Spaceflight and Religion, Media and Religion, and Religious Education. Dr. Waltemathe also co-authored Destination 2064, a computer-game prepared for the 2009 anniversary of John Calvin. In his spare time he teaches courses on model-rocketry at a local High-school
Humans on Other Worlds: Space Architecture Book Table and Book-signing
Friday, July 15 13.00 – 14:00, Café Nelsons, TU Vienna